Part 3: Lesser Known Facts of Bhutan
Not everything about Bhutan is 'holier than thou'. There are some small vices …lets call them entertainment options. Gambling, karaoke bars, and dance bars are as much a part of the Bhutan experience as the Dzongs and sights. While gambling is something that can be seen in most places both during day and nights, Karaoke and Dance Bars open only in the evenings and are few in number. Mostly in towns and cities.
Gambling
Bhutanese regularly gamble, a street-side gambling scene can be always seen where ever we travel and is enjoyed by both men and women. Gambling ranges from cards to roulette and many more varieties.
Karaoke Cafes
There are also karaokes at most places which is popular among the youth…esp young boys and girls. Many hotels in the evening set up karaokes with a playlist that covers atleast 3 generations and various genre. Also, a bewildering assortment of songs of various languages – Dzongkha, English, Hindi, Nepali and even some popular South Indian songs to sing out loud to our heart's content, no judgment reserved. A lot of locals sing well and is a great way to spend an evening socializing and making new friends.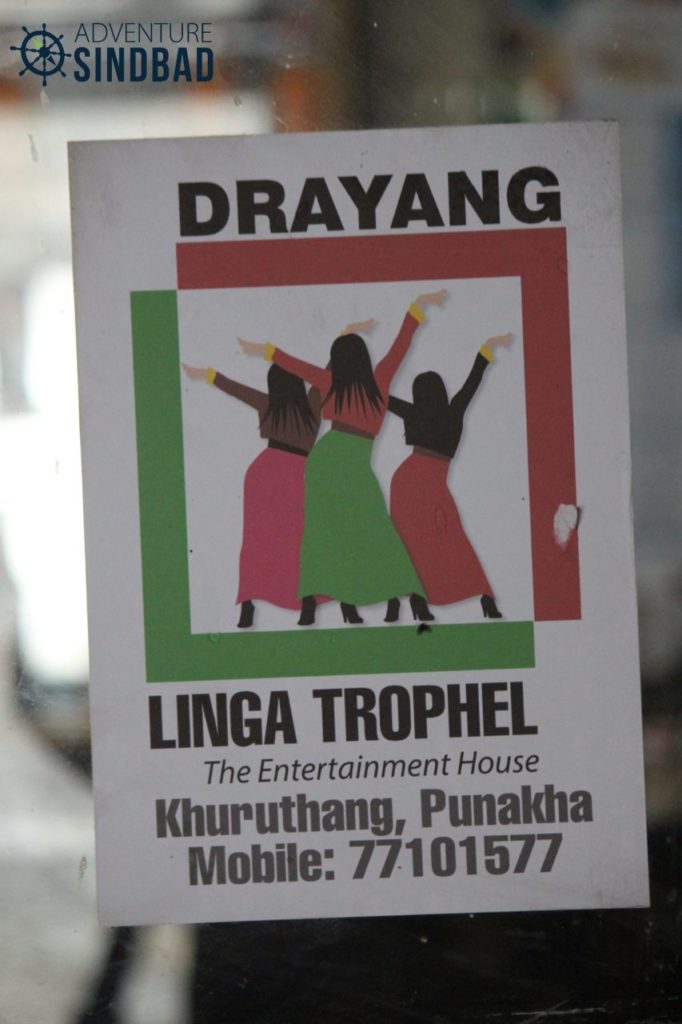 Drayangs – Bhutanese Dance Bars
 Women in dance bars are not something new, but in Bhutan, they are less sleazy and are dancing away clothed in traditional Kiras.  These entertainment houses are called as Drayangs – visited and enjoyed by both men and women.
Worship of Phalluses
And, one of the most shocking things about Bhutan is the reverence given to the Divine Madman and the worship of his 'magic thunderbolt of wisdom' read phallus, in Chimi Lhakhang in the district of Punakha. Divine Madman was the name given to the maverick saint Drukpa Kunley who had unorthodox ways of teaching and questioned the mundane religious customs and conventional norms. It is believed that with his "magic thunderbolt of wisdom" he subdued a demoness of Dochu la and trapped her in a rock close to the black, red and white chorten (the only chorten to be in black). In honor of this feat, his cousin built the monastery in 1499 AD. Because of Lama Kunley, phalluses are believed to be a symbol of positive energy and are painted outside homes to ward off the evil eye and malicious gossip.
Childless women pray to the fertility goddess and are blessed with a 'wang' from the wooden 'magic thunderbolt of wisdom' inside the monastery.
Chimi Lhakhang is a 20 mins trail through a rough dirt path, fields and orchards up a hillock. Wooden phalluses with a face painted in bright colours are sold outside as souvenirs.
Takins
Drukpa Kunley is also the reason why Takin was adopted as the Bhutan's national animal. Takins look like a cow with a goat or a wilderbeast head and are short. There is an interesting mythical story of how the Takin came to be. Lama Drukpa Kunley – the Divine Madman is believed to have created the Takin. When requested to show a miracle, the lama had asked to be fed with a whole goat and a whole cow. After completing his meal, he is supposed to have taken the skull of the goat and attached to the skeleton of the cow and uttered incantations which brought the Takin to life. Because of the legend and the religious inclinations, the Takin was adopted as the national animal of Bhutan in 2005. There is nature preserve in Thimpu for Takin, which was an erstwhile zoo.
Archery: Bhutan's National Game 
Unlike any sport, Archery in Bhutan is an alcohol-laden family affair. Archery is a celebration of Bhutanese way of life.  Traditionally, archery has been practiced by the monarchs and people as part of their hunting games and warfare. It became popular in the 1920' as a sport and an integral part of the Bhutanese life. It was adopted as a national sport in 1971 after Bhutan became part of United Nations. A set of bow and arrows are a prized possession in any household. The target distance is at 145m double that of the Olympian target distance. Participants take a swig of alcohol in between the games and families of the participants indulge in dancing and singing as a way of encouragement and distraction to the other team. Bhutan has been part of the Olympic Games since 1984. But their King Wangchuk does not foresee medal hauling in international tournaments. The socializing element with friendly banter and camaraderie helps in bonding between teammates is what makes it special for the King and its people.
Betel Leaves and areca nut consumption
Doma zhes – have a doma – Betel leaves laced with some lime and rolled with areca nuts is standard Bhutanese offering in a social gathering, with friends and after dinners. Betel leaf, lime, and nut is an intrinsic part of Indian after meal gathering and Bhutan has picked it up from its southern border and made it very much its own. A red smile – a doma smile is seen on everyone. Stocking up during the Sunday markets from monks to local people chew on a doma constantly. Keeping it simple with just 3 ingredients and completely avoiding tobacco, Bhutanese have done what Indians did not. Kept doma as a healthy chewing habit.
Colourful local vegetable markets
An interesting place to be on Sunday mornings. An eclectic variety of ingredients and vegetables are on sale. From quintessential Ema, chillies, to slabs of datse, the cheese used in almost every Bhutanese dish, everything one needs is available. The fruit that looks like an orange egg is actually fresh husky betel nut, imported from India. The jars of pink paste contain lime, which is ingested with the betel nut. There are also exotic-looking ferns, powdered juniper incense. Markets also have their gambling areas, people selling butter tea in tall flasks and momos. It is an invigorating experience to walk through these stalls.