Part 2: Bhutanese Royal's legacy, Cuisine & Traditional Fashion
Bhutan being a Buddhist Kingdom, the Royals have built many monuments like Chortens and Buddha statues. These are a way to carry on the legacy of the former King and also considered religious landmarks adored and revered by people. Of the many, the Buddha Dordenma, the Memorial Chorten and the 108 Druk Wangyal Chortens hold a lot of significance and are very popular with the locals and travelers.
The Buddha Dordenma
The gigantic gilded bronze statue of Shakyamuni Buddha, called 'The Great Buddha Dordenma" is built atop a hill in Thimpu – Capital of Bhutan. This gigantic statue is one of the largest statues standing tall at 169ft and houses within its assembly halls 100,000 8-inch tall and 25000 12-inch tall Buddhas made similar in gilded bronze. So when you are looking at the Giant statue, we are actually looking at 125,001 Buddha's all together. It was completed in 2015, to commemorate the centennial celebrations of the Bhutanese Monarchy. Great to visit at any time of day, but we would recommend early mornings or evenings. Great view of Thimpu Valley on the drive up and down to the statue.
The Memorial Chorten
Located in Thimpu, is one of the most 'Visible Religious Landmarks of Bhutan' with its golden spires and bells. It honors the Third Dragon King – Druk Gyalpo of Bhutan. It is a great place for families to spend a day circumambulating the giant stupa in a clockwise direction. The complex also has giant prayer wheels and lawns where you can sit and have a quiet time appreciating the giant structure.
108 Druk Wangyal Chortens at Dochula
As is a practice to build chortens at the highest point of the pass, the Bhutanese Royals have reflected their religious faith by building 108 red-banded or khangzang chortens at Dochula (3100m). The chortens surrounded by cypress tree filled forest make a stellar view, but it is foggy and chilly for better part of the year. But between October to February the weather clears up and opens out to a grand vista. The pass affords spectacular views of the snow-clad Himalayas prominent of which is the Mt. Masanggang at 7,158 m called in the local language as Mt. Gangkar Puensum.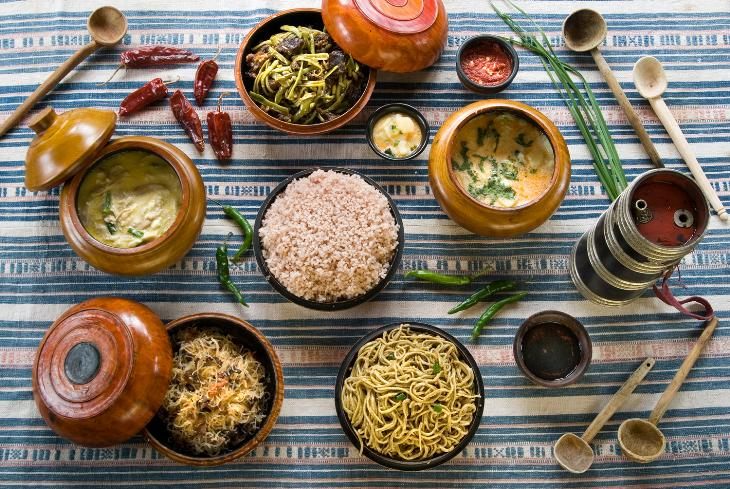 Bhutanese Cuisine
Chilly, cheese, and meat rule the palate in Bhutan. Chillies aren't just a seasoning; they are used extensively as the main dish and is a strict accompaniment in any meal. Ema Datshi – national dish of Bhutan is chillies cooked in cheesy gravy. There is a lot of meat in different forms – dried, fermented and roast eaten along with buckwheat rice or plain rice. Food is served in a wooden bowl, something easy and convenient to pick up and eat with your fingers instead of metal cutlery. Although meat dishes are a prominent part of the Bhutanese cuisine, everyday meals largely constitute vegetarian dishes with varieties of daal soups. If Ema Datshi is too spicy, then you should try Khewa Datshi – potatoes in cheesy gravy.
Beverages, the go-to hot beverage is the Suja – salty butter tea, and traditional wine – Ara is the go-to alcoholic beverage both served with traditional Bhutanese food. Bhutan also has its own variety of beers and wine …to name a few – Druk 1000 and Zim Zim and Takin branded wine.
Food definitely plays a vital role in people's happiness.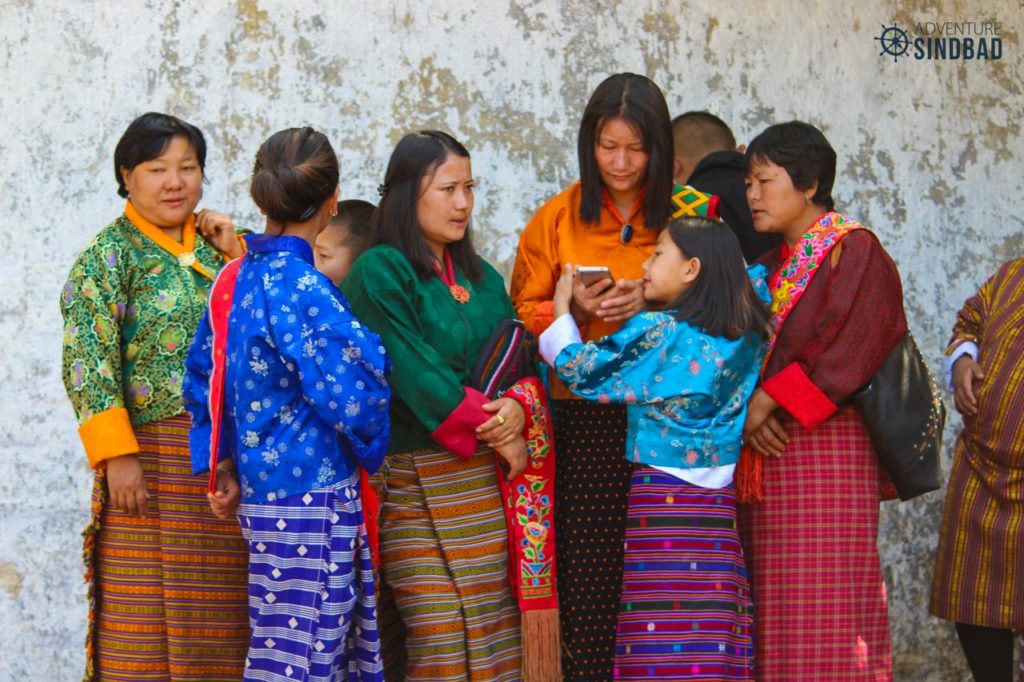 Traditional Fashion
 Gho and Kira – Bhutanese wear their national clothes as a matter of pride and identity. Although they are free to wear otherwise most people do wear them in their daily lives. But it is mandatory to wear them in schools, administrative offices, and on formal occasions. 
Ghos are long robes that get fastened tightly at the waist with a belt called as kera. Traditional shoes are knee high but people these days wear shoes with knee-length socks. While entering administrative building or monasteries an off-white cloth like a scarf is worn sideways called the khabney. The colour of the khabney signifies the rank or status of the men, saffron is reserved for the King. Ghos have a variety of patterns; flower patterns are considered a taboo and solid bright colours like red and yellow are not used as these colours are worn by monks. Apart from these, there is no particular reason for any patterns. They are striped mostly made in Bhutanese textiles. Most Bhutanese homes have a loom that they use to hand-weave their own textiles.
Kira is a full body length skirt that is wrapped around the shoulder and held in place with multiple hooks, fastened at the hip with either a belt or a cloth. Most women these days sport a half -Kira, used only as a wrap-around skirt and wearing a blouse with it. Women too have to wear a sash called rachu over their shoulders while entering a monastery.
A festival or a social event is a splash of colours with men and woman coming out to attend in all finery. Clothes made of silk are kept for special occasions and woman wear exquisite jewellery. All of these make the event a riot of colours.
Women from the laya part of Bhutan in Gasa district, wear a conical hat made of bamboo over their head. These hats are kept in place by multi-layered multi-colored beaded chains. This is a must wear for these tribeswomen.
The Royal Family's photo is a just reflection of the fashion and clothing in Bhutan. The colours and fabric used are also considered as a societal status tell-tales.